We love a Duck with Greens and Potatoes and this deliciously simple, chef-curated recipe doesn't disappoint. Time to bust out the pots and pans!
Ingredients
Instructions

Preheat your oven to 200°C. Chop the potato into 2cm chunks (no need to peel!). Pop the potato chunks on a large baking tray in a single layer. Drizzle with oil and season with a pinch of salt and pepper. Toss to coat in the oil, then roast on the top shelf of the oven until golden, 25-30 mins. Turn halfway through cooking.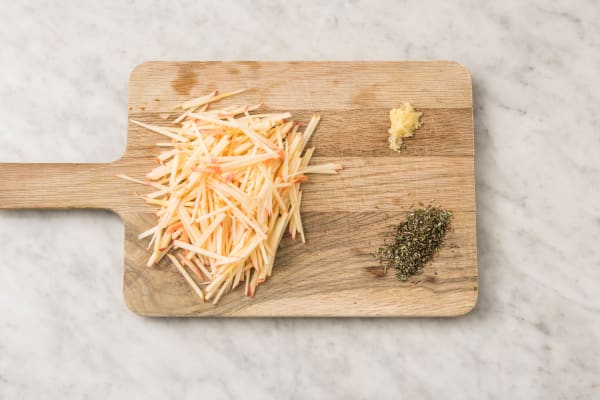 2
Meanwhile, peel and grate the garlic (or use a garlic press). Quarter the apple and remove the core. Thinly slice, then chop the slices into thin matchsticks. Pick the rosemary leaves from their stalks and roughly chop (discard the stalks).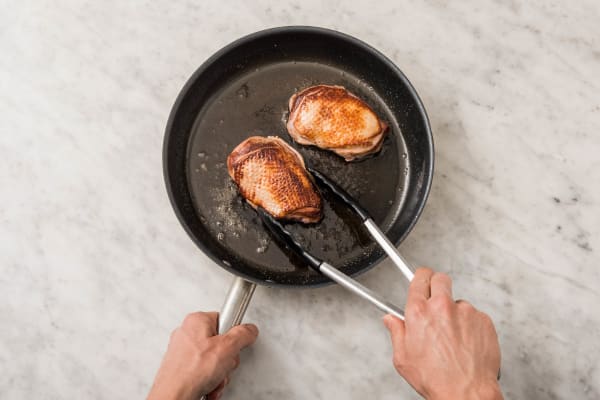 3
Pop a frying pan on medium-high heat (no oil). Once hot, season the duck all over and lay the duck in the pan skin-side down, fry until the skin is golden, 5 mins. Lower the heat to medium if it's browning too quickly. Turn and brown the flesh side for 1 minute then transfer to the baking tray with the potatoes, keep the pan! IMPORTANT: Remember to wash your hands and equipment after handling raw meat!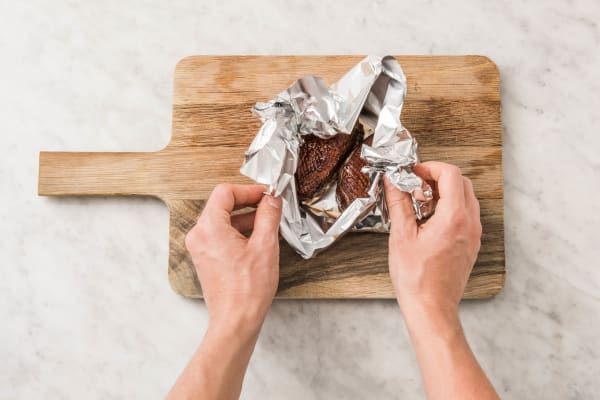 4
Pour some of the duck fat over the top of the potatoes, then return the tray to the top shelf of the oven and cook for 15 mins. Once cooked, transfer your duck to a board and cover with foil for 10 mins. Leave to rest for a few mins.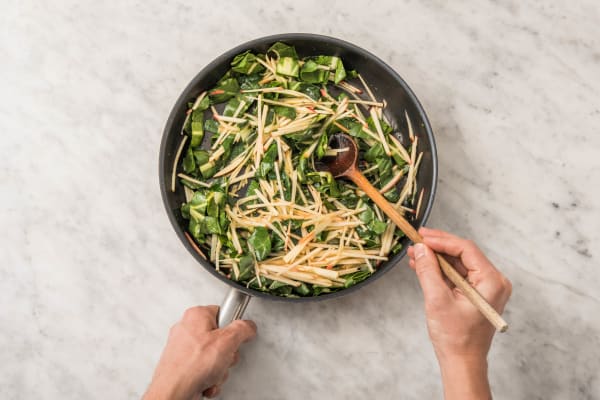 5
While your duck cooks, return the now empty frying pan to a medium heat with a glug of oil. Once hot, add the spring greens, apple and rosemary along with a good pinch of salt and pepper. Stir-fry until the greens have just wilted, then stir in the garlic and a small knob of butter (if you have some!) Cook for 1 minute then transfer the greens to a bowl. Covered with foil to keep warm while you make the drizzle.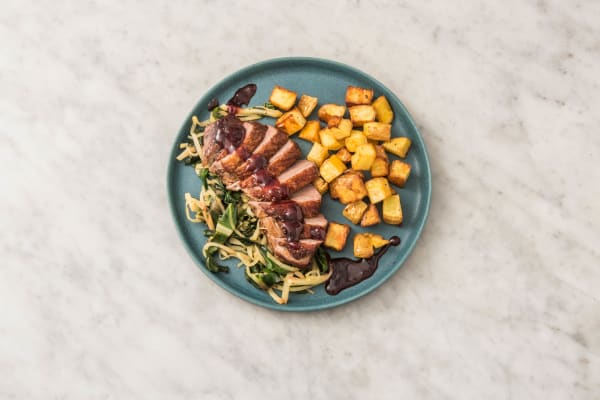 6
Pop the redcurrant jelly and water (see ingredients for amount) into a small saucepan on medium-high heat. Bring to the boil, stirring continuously to melt the jelly. Bubble until glossy, 1-2 mins. Remove from the heat. Once the duck has rested, slice thinly and stir any resting juices into the drizzle. Share the potatoes and greens between your plates and lay the duck on top. Spoon the drizzle over the top of the duck. Enjoy!